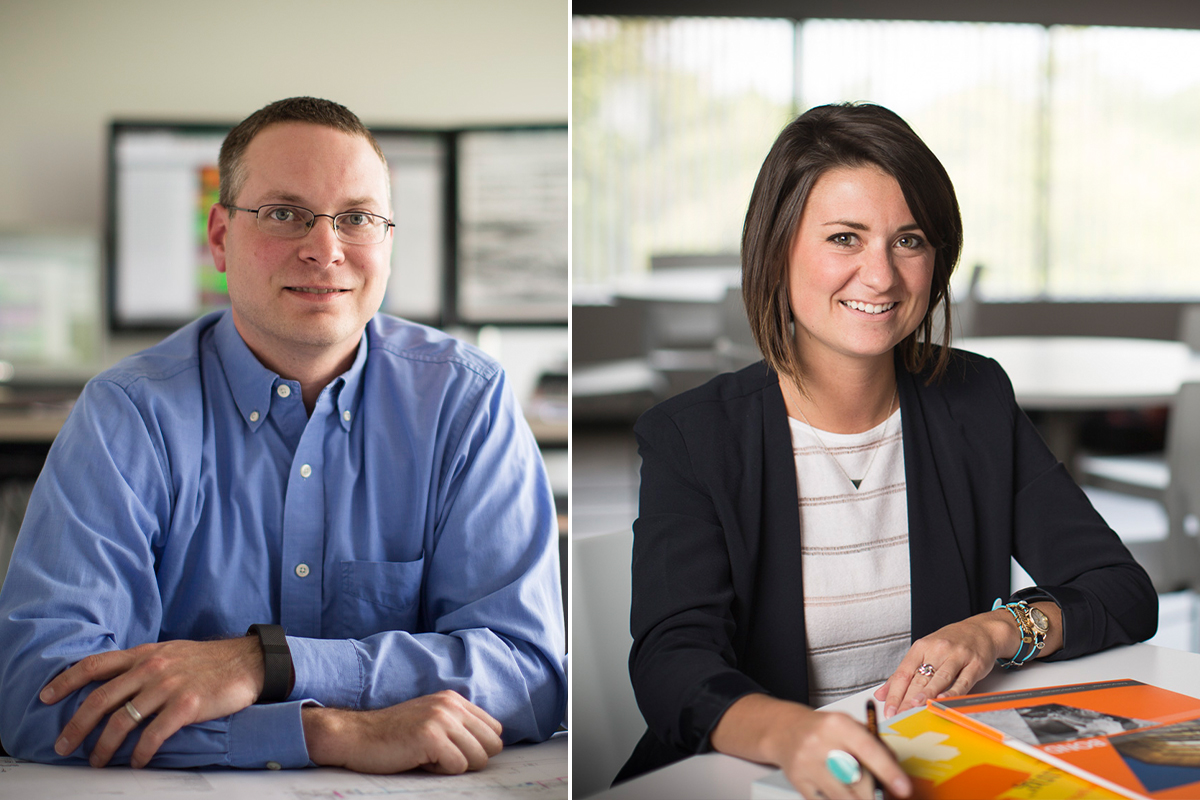 Technology innovation is transforming the way we plan, manage risk, and build. Translating digital advances into tangible benefits for clients, however, is often missing in all the industry hype. We asked Chris Fogg and Olivia Gardner of BOND's Integrated Services Group to describe what's new in construction-related technology, and how new tools and methods are changing the client experience.
Chris and Olivia, what game-changing technology should we all know about?
Chris: A few years back it was laser scanning, which most clients now know is enormously beneficial. The next new technology we see as game changing is augmented reality. By using a Microsoft HoloLens, we can immerse ourselves in the holographic construction model which provides a full-scale, realistic preview of how a space will look and function. Instead of viewing the 3D images only on a computer, we get to see them in their intended space and how everything works together so we spot problems or conflicts before and while we build.
Olivia: As Chris says, it is changing the game for our clients. The efficiency and quality control value are dramatic. Without the HoloLens technology, we needed to rely solely on the BIM plans. When these models were brought to the field, they were seen on an iPad or a computer screen. Now, we have the benefit of projecting the modeled section in front of you. At actual scale, you can see the modeled section overlaid on current site conditions. This virtual test fit provides a tangible benefit for everyone from the owner to the builder to the facilities staff.
What is the response you are seeing from clients?
Chris: Many of our clients don't often enough read drawings or BIM diagrams to fully visualize their building. This can often create the opportunity to fill in the gaps with their own vision of the project. And it's not unusual for clients to walk through their building during the late stages of construction and say "Gee, that's not how I thought it was going to look." Augmented reality technology can't solve that issue completely, but it can get us all much closer to providing a realistic preview of how a space will look and function before it is built.
We recently walked through the new Stonehill College business school site with our client's leadership group. When the construction state was only foundations and steel beams, they were able to virtually walk around and view the inside and outside of the finished building thanks to the HoloLens. This makes it easier to see things as they will be built, and to easily make adjustments based on that realistic experience.
How does augmented reality reduce schedule time and cost on project?
Olivia: With greater use by all our trade partners and by superintendents and foremen, we can spot issues of conflict or insufficient space before they impact the schedule or the budget. In most cases, it's not what they are installing now that needs to be seen in the HoloLens or in augmented reality, it's the systems around them that haven't been installed yet. If they opt to make a deviation in the field, the hologram would show that, no, you can't move that pipe because there's going to be a cable tray there eventually. For all the trades to operate at full efficiency and stay on schedule, it is paramount to avoid rework and to help answer the what-ifs that come up in everyday construction.
What other changes are happening as technology evolves?
Olivia: I see the technology advancing collaboration among all the parties designing and building today. Adapting new technology to solve our shared challenges and problems earlier is the goal. At BOND, we see closer integration of disciplines and perspectives as key to our Lean approach and its principle of continuous improvement.
Chris: To provide the maximum value, we believe we need to be involved from the first conversations during project pursuit all the way through commissioning and turnover of the building. We formed a cross-discipline Integrated Services Group that brings together our tech capabilities – laser scanning, virtual design and construction, reality capture, and augmented reality – with our MEP expertise and our quality control program. This fosters Lean practices across the entire project team.
In closing, is there something you wish everybody knew about technology adoption?
Chris: One important thing is that technology doesn't solve problems. A big misconception is that wow, now that we've got all this great technology, our project's going to be successful. It's not the technology, it's the process, it's the people, and it's the culture of the entire project team. Success comes from what surrounds the technology and from a trust in the process and the people behind it.
I was talking with Olivia today about a project she is working on. The conventional thinking is that hey, we used Revit, we did clash detection, this job's going to go smoothly. But an exhaust vent was too close to an air intake, and that creates a problem with the building code. To do that review was an extra layer of problem solving that Olivia added beyond the model. It's these above and beyond catches that come from having a process, a workflow of checking items that aren't in the model, but you know will occur in real-world conditions, that lead to success.
Olivia: Another part to this human side is that much of this technology, to be candid, is a younger generation tool. The adoption of tools such as BIM is a lot easier there. But it's the lessons learned from the senior staff, the project managers, the superintendents, our trade partners, and how well we extract that knowledge and apply it to a BIM, that makes technology perform as it should.