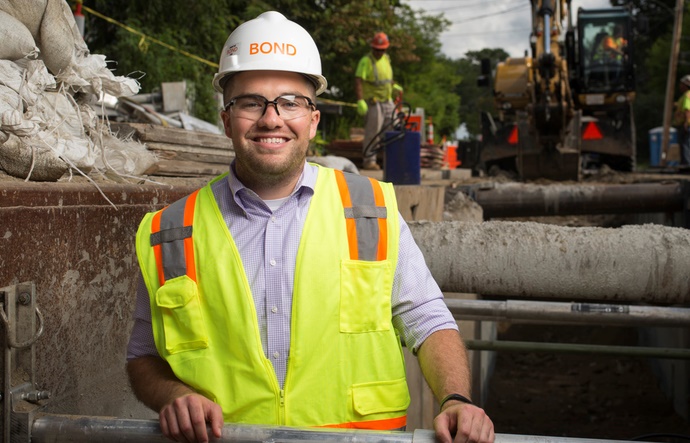 Tony Bond leads BOND's Oil & Gas Group and oversees its growth and development. His dedication to creating a team culture focused on safety and quality is one of the reasons for the company's success and its expansion throughout the Northeast.
In our work planning and constructing underground utility infrastructure, we often say that our best work is never seen. While most people picture construction as the typical residential or high-rise project, our group is focused on constructing utility infrastructure below ground and primarily out of site.
We don't mind the invisibility though. What matters most is managing another unseen – the countless risks and often unpredictable scenarios encountered when building in densely-populated communities.
BOND's work for utility clients takes us into the most challenging project sites and most dangerous subsurface complexities imaginable. The risk management lessons learned on hundreds of these projects offer insights for anyone responsible for safely planning and building a project of any type.
Ask the Right Questions, Find the Right Answers
In utility construction, we have learned to assume that much of the existing infrastructure and surrounding subsurface conditions are not accurately documented. Even when "as-built" plans exist, the reality is much of the infrastructure in place is decades old. While all parties, from the utility companies to the engineers to local cities and towns, do their best to safely and appropriately document what is in the ground, there is simply no way to be 100% certain.
To overcome this unknown, our planning and due diligence work involves research and verification to understand the full picture of existing conditions. Once we gain a more complete picture, we can determine what issues might need to be addressed before we begin the work. Using a variety of methods including Ground Penetrating Radar (GPR), Utility Mark Outs, to traditional hand digging and other options, we identify the best opportunities to safely and productively ensure that the work we do is in the best interest of the client and the existing facilities.
Two-Way Learning in the Community
When Con Edison chose BOND to install a new high–pressure gas pipeline through the heart of the Bronx in New York City, the challenge went far beyond constructing over a mile of 16-inch pipeline. Our responsibility also included managing the risks inherent of building along and below urban streets and congested thoroughfares in one of the most densely-populated communities in the country.
To mitigate risk and create a custom plan, we needed to learn as much as possible about the routines and daily conditions in the Bronx neighborhood. We met with local property owners, residents and school administrators to talk about the scheduling of street-level construction and how to best reduce impacts. We also met with community groups, transit officials and elected officials.
By going beyond the expected methods of communicating, we not only built trust and mutual understanding in the community, we also gained valuable insight on how to tailor our safety measures to avoid the risks identified by those who live and work there every day.
A Safety Culture
Whether building in the Bronx or a small town in Rhode Island, our success relies on a company culture created around the right values. An engaged, experienced and accountable project team works together to establish a safety culture. Investing in training and equipment is part of this, but an even larger part is how our staff members see their role. In a culture based on the values of mutual trust and responsibility, every individual is comfortable learning from each other, teaching others and speaking up when necessary.
Something I learned early in my career is that the newest person on the team can sometimes have the best idea for solving a problem or identifying a potential problem. By sharing information and encouraging an open, transparent organization, everyone is part of the responsibility – and the success.